Trind Caring Colors is a unique nail polish with strengthening ingredients to maintain the health and vitality of your nails.
Available in various colors.
Learn more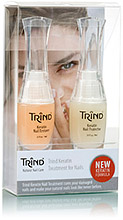 Trind Keratin Treatment for Nails Kit
Finally there is a solution for damaged and overly sensitive nails after wearing artificial nails or nails that suffer from other damage.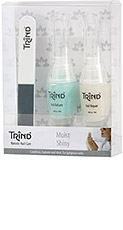 Trind Moist & Shiny Kit
Strengthen weak or thin nails – rehydrate and restore their natural moisture with our top selling Moist & Shiny Kit. Each kit contains Trind Nail-Magic, Trind Moisturizing Nail Balsam and our award-winning Trind Nail Repair.
Learn all about Trind Natural Nail Care products
Trind is also available online and in spas.